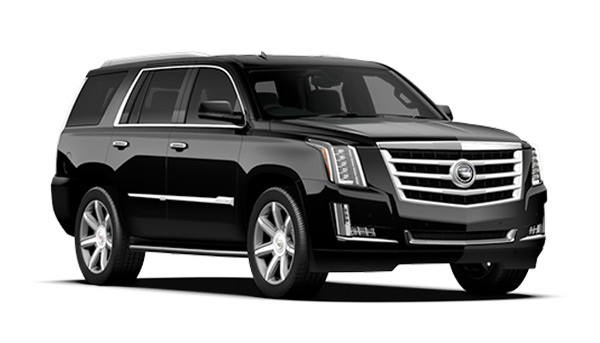 Cadillac Escalade
Book Now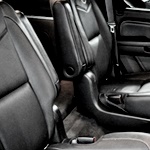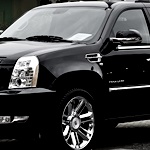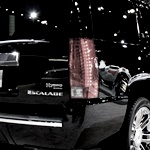 CAR OVERVIEW
When you're searching for the best combination of looks, space, and appearance, choose the Cadillac Escalade. The Cadillac Escalade is a full-size luxury SUV that has been engineered and manufactured by General Motors, and marketed under the iconic Cadillac brand. Opt for this spacious 7 passenger SUV when you're in need of reliable airport transfers during your next business trip, or require transportation for yourself, fellow co-workers, or for your important corporate clients. The Cadillac Escalade has much to offer in terms of luxury features, including a black exterior, black leather seats, tinted windows, stereo sound, and sufficient luggage capacity. Here's a look at other reasons why the Cadillac Escalade is the vehicle of choice for many people who desire power, performance, and a sleek, eye-catching exterior and interior.
The inside of the Cadillac Escalade emits a feeling of luxury and sophistication upon first glance. To create the appealing interior, Cadillac called in eleven artisans who handpicked the beautiful woods and premium leathers. In the center of it all, a console provides room for storing smaller items. For extra comfort, the front and second row of seating is heated, perfect for those cooler days in the fall and winter. The front seats also offer a cooling function for those warmer days. The standard power-folding third row of seating folds down to allow for extra storage space for luggage and equipment. The spacious interior easily accommodates up to 7 passengers comfortably, which includes up to 10 inches if legroom in the third row.
When all seats are folded, the Cadillac Escalade features more than 120.9 cubic feet of cargo capacity, including an impressive 39.3 cubic feet just behind the third row. The modern Escalade was designed with larger rear doors that allow for wide openings. Also on the exterior of the vehicle, you'll find the convenient hands-free power lift gate. With the keyless access fob kept in your purse or pocket, simply place your foot under the rear bumper to easily open and close the lift gate, hands-free. The vehicle's construction itself is also amongst the strongest of its kind. The foundation of the Cadillac Escalade is actually a safety cage constructed of ultra-high strength steel alloys. Multiple crush zones are strategically placed to help protect the driver and passengers in the event of an accident.
Performance is never an issue when driving in the modern Cadillac Escalade. The powerful SUV features a 6.2L V8 engine, coupled with an 8-speed transmission that allows for a smooth ride from start to finish. The 460 lb. –feet of torque and 420 horsepower provides enhanced power that can't be found in your standard SUV. The Cadillac Escalade also has a plethora of advanced features that make it a popular luxury vehicle, including variable valve timing, commanding power plant, direct injection, and active fuel management, which allows drivers to achieve maximum fuel economy.
The Cadillac Escalade is also diversified in terms of in-car entertainment. The SUV features separate rear audio, AM/FM stereo, a subwoofer, premium brand speakers, satellite radio with real time traffic, and adjustable speed sensitive volume. The Escalade also allows guests to customize their driving experience by incorporating a memory card slot and USB connection. Simply connect your USB-enabled music device to listen to tunes as you ride to your various destinations. The vehicle also features Bluetooth wireless data link for hands-free phone.
For an iconic look with the power and performance to back it up, choose the Cadillac Escalade for your next trip or road adventure. The luxury SUV has everything you want and have come to expect from a modern sports utility vehicle.